Saving and Planning Lead to Surprise Gift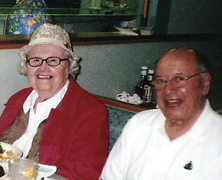 With a gift of $500,000, Katherine and Joseph "Joe" '63 Triolo, ages 101 and 95 respectively, are among a group of leadership donors who have helped to fully fund the new $43 million Lillard Science Center.
The Triolo's lifelong commitment to education and a penchant for saving culminated in Vice President Philip Hood receiving a surprise phone call from their financial advisor this summer. Together they had decided to make a much larger gift than previously imagined.
The gift puts an exclamation point on a relationship with the College that began rather untraditionally, with Joe enrolling following his service in the United States Navy nearly 60 years ago.
"I learned a lot about teaching in the Navy, but Lake Forest College gave me the identity I needed to become a productive civilian," says Joe.
Meanwhile Katherine, a homemaker, became a prudent and regular investor in government bonds and Abbott Labs stock. Joe credits her saving for the financial position they enjoy today.
No joy, however, surpasses the one they found working with their financial planner, David Lee at Northern Trust, to realize a major gift to Lake Forest College this year.
"We always imagined the College and several other organizations would receive gifts after our passing. I can't describe how great it feels to see a lifetime of savings go to work at the College right away. David gave us the confidence we needed to move ahead," says Joe.
It's a message and opportunity the Triolo's and Hood hope others will pursue.
"Financial planners are an essential partner in helping our donors realize their potential to impact the College today," says Hood. "I encourage our donors to work with their advisors in this way."
"Lake Forest College and David served us well," says Katherine. "It's an honor to be able to do this now."
© Pentera, Inc. Planned giving content. All rights reserved.
Disclaimer